Description
After the first brushless Silverware FC board Lite 2S, the Lite1S brushless flight controller is here.
Flying footage from NotFastEnuf on Lite 1S.
The stock power cable connector of this FC is BT2.0 connector.
Know more about the BT2.0 connector.
UPGRADED POINTS
Thanks to all the pilots for your feedbacks and advice since the first batch boards. The second batch is available now. There are several improvement now.
If you are the one that do not want too much OSD information when flying, here is a great balance. The OSD information could be customed one by one.
Change the OSD font to be more contrast.
Add rate option in the OSD menu and pilot could choose according their prefer.
Use

 

orange color

 

on this FC with Silverware firmware.
SPECIFICATION OF FC
CPU: STM32F042G6U6
Six-Axis: MPU 6050
Mounting holes size: 26.5mm*26.5mm
Firmware:

 

BETAFPV LiteSilverware firmware

OSD: LiteOSD
Built-in Receiver: Frsky D8
Support Receiver: SBUS and DSMX protocol receiver, including Frsky XM/XM+ receiver, Futaba receiver, Crossfire receiver in SUBS mode and DSMX receiver
Support Smart Audio
Weight: 2.62g without connector
SPECIFICATION OF ESC
Input Voltage: 1S
Continuous Current: 5A
Peak Current: 6A
Factory Firmware: O_H_5_REV16_6.HEX
Signal Support: D-shot150, D-shot300, D-shot600
Motor Connectors: 1.25mm header pins connector
Processor Chip: 

EFM8BB21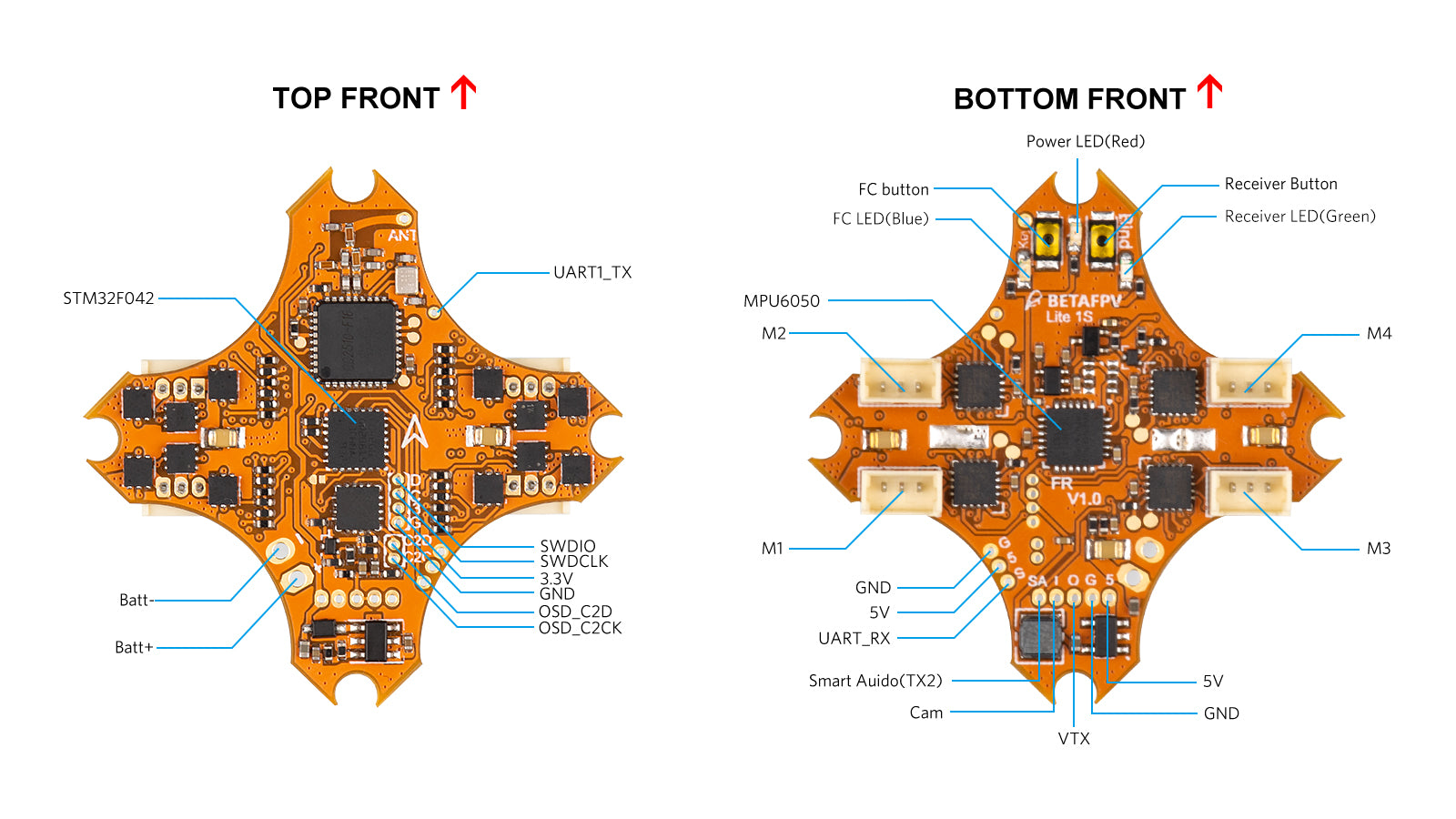 BUTTERWORTH FILTER
Original Silverware firmware has the bug that accelerometer based drift entering the fusion which manifests as a slower and slower yaw response. This is noticeable in level mode for almost all the Silverware based FC boards.
Now we have fixed it. Filter the accelerometer data first with low pass Butterworth filter and let it participating in flight.
Below is the gravity vector value GEstG[x] drift graph when no correct accelerometer data participates.
OSD MENU
Lite 1S Brushless FC is with build-in OSD which is convenient for changing settings. It supports PID tuning, motor spinning direction changing and channel mapping of AETR in default. The power and frequency of VTX can be switched directly. The operation of OSD Menu on Lite 1S Brushless FC is the same as Betaflight.
For more detailed info, kindly check Full user manual to download
RECOMMENDED PARTS LIST
Package
1 * BETAFPV Lite 1S brushless flight controller
4 * M1.4x5mm screws
4 * M1.2x4mm screws
4 * Anti-vibration rubber dampers