Description
About this product
For a new generation of toothpick drone, the AIO Brushless FC can handle 20A continuous current (25A burst), which is the first 20A All-in-one FC on the market. Compared to FC / ESC Stacks design, this board provided with massive levels of performance capability while still maintain ultralight only 6.63g. Breaking through the limit of toothpick power, exploring more possibilities in 3''-4'' drones. This board is your best choice to DIY your own toothpick drone that is tailored to your requirements.
Features
This new board can handle 20A continuous current(25A burst), which is the first 20A All-in-one FC on the market
Comes with 4*Motor Pluggable Pins and Not Pre-solder in default, fits your needs of self-assembly best
Compatible with 120Xmotor, 130X, and140X motors
USB port is mounted on the side, you have more possibilities of mounting it while still maintaining access to the USB port
All of the solder pads are at the edge of FC, which is a convenience to solder
Double-sided motor solder pad. Pins pad and wires pad are both built-in for motors connection
Integrated with a Betaflight MATEKF411 processor FC, Betaflight OSD, F4 MCU, and 20A ESC, support 2-4S battery
Comparison of Toothpick 12A AIO FC and Toothpick 20A AIO FC

Parts Updated
Integrated 12 single N-channel MosFETs chips on the 20A AIO FC board, which has a lower inner resistance. 12A AIO FC board adopts 6 dual MosFETs chips instead. Current sensor included.
Double-sided Motor Solder Pad
Support connect with motors via connectors or solder directly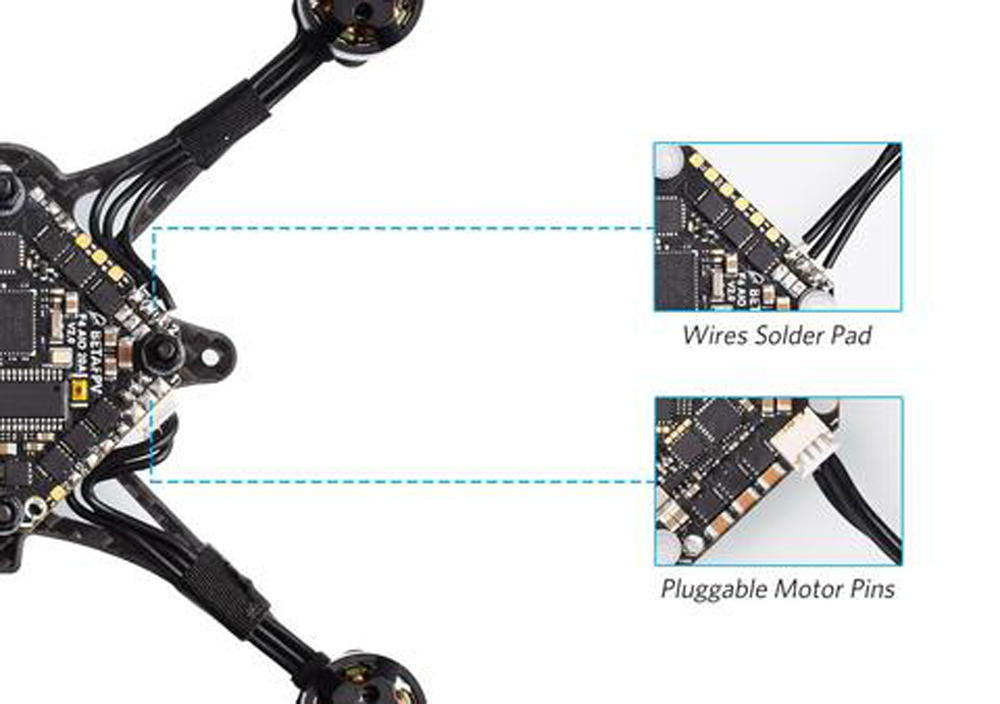 Mounting Pattern and Real Holes of Mounting Holes
Specification of FC
CPU: STM32F411CEU6 (100MHZ)
Six-Axis: MPU6000 (SPI connection)
Size: 32.5*32.5mm (26.5mm mounting holes)
Firmware version: Betaflight MATEKF411 (MK41)
OSD: Built-in BetaFlight OSD (OSD chip: AT7456E)
Receiver: Support Frsky XM/XM+ Receiver/ Futaba Receiver/ Flysky Receiver/ TBS Crossfire Receiver/DSMX Receiver
Support programmable LED like WS2812 etc
Built-in current sensor
Weight: 6.63g
Specification of ESC
Support BLheli/BLHELI_S suite Pass-through ready
Support PWM, Oneshot125, Oneshot42, Multishot, Dshot150, Dshot300, Dshot600
Input voltage: 2S-4S Lipo
Continuous current: 20A
Peak current: 25A
Firmware: BLHELI_S
Motor Connectors: 1.25mm header pins connector
Diagram for Toothpick F4 20A AIO FC 
Includes
1 x Toothpick F4 20A AIO 2-4S brushless flight controller
1 x Cable Pigtail (XT30)
4 x M2x10mm screws
4 x M2 nuts
4 x Anti-vibration rubber dampers
4 x Motor Pluggable Pins